Elsie Parker & The Poor People of Paris
Performance Schedule
https://www.facebook.com/thepoorpeopleofparis/
contact us parcoeur@mindspring.com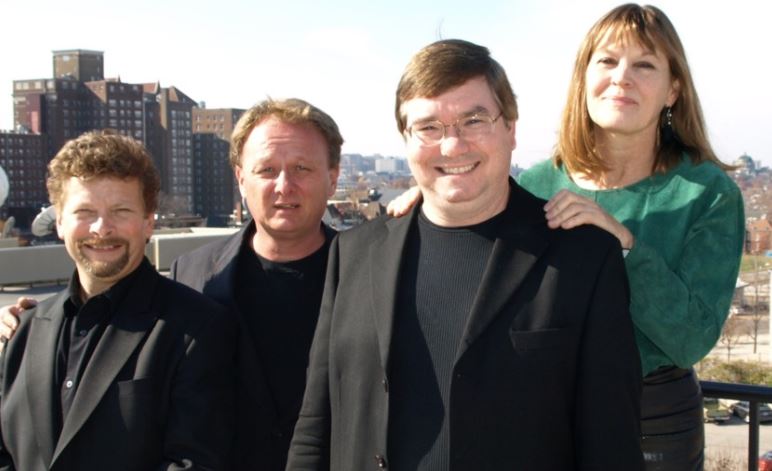 "Mostly Michel, Largely Legrand"
Celebrating Michel Legrand and his music on his 85th birthday
and
Mardi gras!
FAT Tuesday Feb 28 2017
7:30 PM
$20 General Admission through Metrotix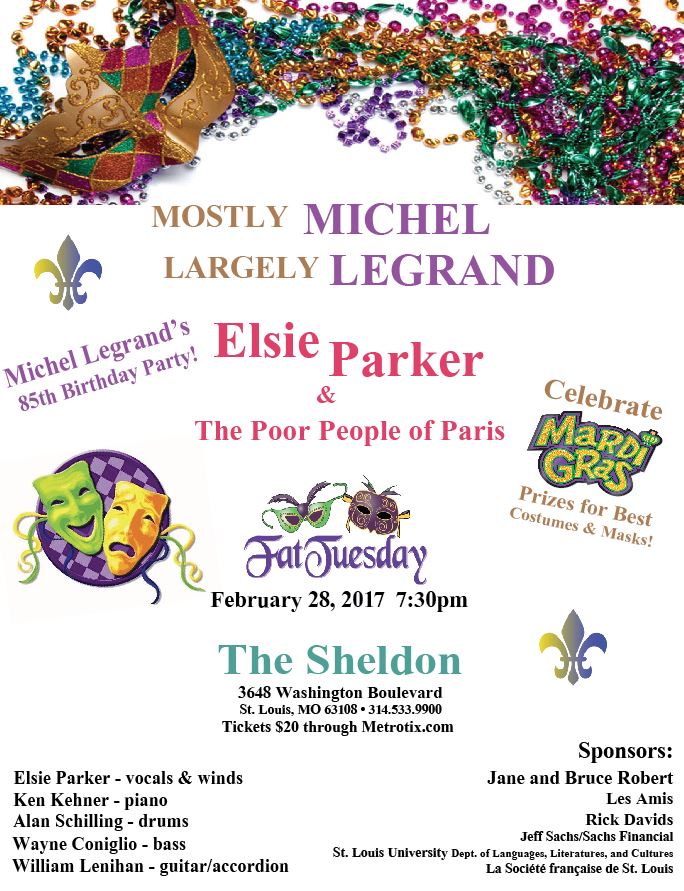 gift certificates for best costumes/masks provided by
Café provençal
Parker's Table
Starrs
Overlook Farms

3648 Washington Blvd.
St. Louis, Missouri 63108
(314) 533-9900
ELSIE PARKER-vocals & Woodwinds
Ken Kehner-piano (Steinway Grand!!)
William Lenihan-guitar and accordion
Wayne Coniglio-bass
alan schilling-drums
*******
Our heartfelt thanks to our generous sponsors:
Jane and Bruce Robert
Les Amis
Rick Davids
Jeff Sachs/Sachs Financial
St. Louis University Department of Languages, Literatures and Cultures
La Société Française de Saint Louis societefrancaisestl.org
*******
sUNday March 12 2017
7:00 PM
accompaniment to
Jean Renoir's
1926 silent film classic
"Nana"
(Jean Renoir, 1926, France, 150 min)
Live music accompaniment by Elsie Parker & The Poor People of Paris
NANA is an adaptation for the classic novel by Emile Zola (the author's daughter, Denise Leblond-Zola, was even hired to write the titles). The film stars Renoir's wife, Catherine Hessling, as the title character, a talentless and vain stage actress who becomes the kept woman of the hopelessly infatuated and married Count Muffat. The film features a pair of grand set-pieces, at a horse race and an open-air ball. Introduction and post film discussion by Lionel Cuillé, the Jane and Bruce Robert professor of French and Francophone Studies at Webster University. In French with English subtitles.
Webster University-
Moore auditorium
407 E. Lockwood Ave
ELSIE PARKER-vocals & Woodwinds
Ken Kehner-piano
Wayne Coniglio-bass and trombone
Alan Schilling-drums

é ç